Lately, the Cardinals cannot beat the Giants in the post season. O'Fallon is the soccer Kahoks baseball Giants to the St. Louis Cardinals.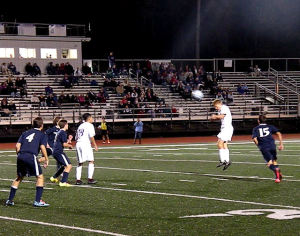 Four times in four years Collinsville has played O'Fallon in Regional play and the Panthers have walked off the field victorious four times. Wednesday, Collinsville lost in heartbreaking fashion, 6-5 on sudden death penalty kicks.
Although O'Fallon (6-10-3) has beaten Collinsville (10-10-1) each of Head Coach Myles Hensler's four years in charge of the program, his mind was on his team after the gut-wrenching loss.
"You feel for the seniors and you feel for the team," Hensler said. "They've worked so hard to get to this point and they've been playing so well the last couple of weeks and we just didn't get the result."
After playing through regulation and two 10-minute overtime periods scoreless, the teams each connected on all five penalty kicks. Collinsville's Brett Langley kept the Kahoks' season alive when his penalty kick, the last in the first round, barely snuck into the inside right post.
O'Fallon's Jeffery Pratt began the sudden death penalty kick round by beating Brett Niedzwiecki to the right. The sophomore goalkeeper had guessed left, dove left, and stood no chance as the ball rocketed past his feet.
Up next was Kahok junior Jared Hamann. With the season on the line, the junior hammered a shot to the left of O'Fallon goalkeeper Kyle Rademacher, who had guessed the shot would go left. As the shot bounced off Rademacher's outstretched arms, the Panther sideline erupted. A dejected Hamann was comforted by Niedzwiecki, one of three team captains.
Hensler said he had implored his team to seize the moment before the match went to penalty kicks, where luck, more than talent, can determine the outcome.
"I don't think any team wants to go to PKs, unless they are on the winning side of it," Hensler said.
Despite the scoreless draw through 100 minutes of play, each side created many chances throughout the match. CHS even found the back of the net with just fewer than nine minutes remaining, but a foul call nullified the goal.
A short time later, Jordan Smith was fouled one yard out of the penalty box. Instead of a penalty kick, the Kahoks were left with a chance from distance that they could not convert.
O'Fallon moves on to play Belleville East at 6 p.m. Saturday at Kahok Stadium in the Regional championship. The Lancers beat Belleville West 2-0 Wednesday to earn a spot in the championship match.