The Collinsville Kahok football team travels to Alton Friday for the team's final road game of the season.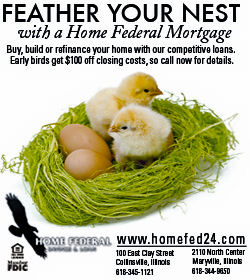 The Redbirds enter the game 4-3 (2-3 Southwestern Conference). A fifth win could earn Alton a playoff spot.
Collinsville (1-6, 1-4 SWC) may be looking at its final chance to get a second win in 2014. The Kahoks will host East St. Louis, the state's 7th ranked Class 6A team, in their final game on Oct. 24.
Already playing without seven starters that have been lost for the season to injury, the Kahoks may have backup quarterback Tyler Callahan taking snaps Friday. Starter Jordan Reichert, who was removed in the second half last week against Belleville West, may not be healthy enough to play.
Callahan is capable of running the complete playbook, Head Coach John Blaylock said. A few running plays may be adjusted for the 6 foot 4 inch, 164-pound sophomore, Blaylock said. Callahan was 4-8 passing last week for 64 yards and three interceptions.
The Kahoks, with 65 points scored, are last in the conference. The key to improving that number, Blaylock said, is to continue improving the execution of the offense and to limit drive-killing penalties. Playing with only one senior on offense, Collinsville continues to grow on Fridays.
"It's not the worst thing in the world from a young guy's perspective," Blaylock said. "They get to learn what it's all about under the lights."
Returning to the field on the offensive side of the ball for the Kahoks will be lineman Nick Scholl as well as fullback and long snapper Dillon Rosenbaum. Zach Hammel-Brown, who started the season as a wingback but moved to fullback when both Jordan Miller and Rosenbaum went down, will move back to a wing.
For the first time in two weeks, Eric Finch and Max Lyons will be healthy enough to line up on defense together. Lyons, Finch and the rest of the Collinsville defense will try to shut down the rush heavy Redbirds. Running back Kareem Hamilton, with 431 yards and six touchdowns, leads the Redbirds.
Kickoff is at 7 p.m. Friday at Public School Stadium, at West Elementary School, 1513 State St, Alton, IL 62002.