Belleville, Ill. – The soggy sod could not stop the Collinsville Kahoks from scoring four goals Wednesday for the third consecutive match as they topped Belleville East 4-3.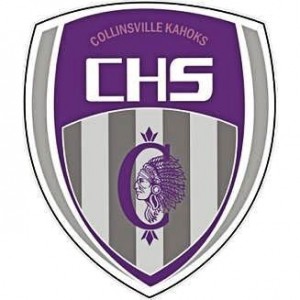 The Kahoks (9-9-1, 3-2 Southwestern Conference) fell behind less than two minutes into the match when the Lancers (5-9-3, 1-3-2 SWC) scored at the 1 minute 36 second mark. Overcoming a deficit has not been a Collinsville strength in 2014, but Tanner Przybysz got the visitors rolling when he connected for his third goal of the season ten minutes later. The game went to the half tied at one.
The first of Jordan Smith's two goals in the match put the Kahoks up for good in the 47th minute. Luis De Anda followed three minutes later to stretch the lead to 3-1. De Anda has scored a goal in each of the Kahoks last three matches, and three on the season.
Head Coach Myles Hensler said the team shifted formation recently to put De Anda and Grant Bauer up top with Smith, and the three have been feeding off each other.  In the past three matches, the trio has combined for eight goals and eight assists. Smith and De Anda have scored three goals each, with Smith contributing two assists and De Anda one. Bauer has notched five of his seven assists for the season in the past three games, to go with two goals.
After the Lancers cut the lead to one, Smith put home his second goal of the match with 25:38 to play to give Collinsville a 4-2 lead. The Lancers scored a late goal, but the Kahoks hung on for the 4-3 victory.
The high scoring affair was not exactly a surprise to Hensler, who called the muddy field "a defender's worse nightmare." After seven straight days of at least a trace of precipitation, the field was not quite soccer ready, Hensler said. However, with Regionals beginning Wednesday, the match had to be played.
The slushy surfaced forced the Kahoks to adjust their style of play. Rather than maintaining possession and making multiple passes, they kicked the ball forward and pressured the defense, Hensler said.
The victory was the third straight for the Kahoks, a season high.
"You want to be playing your best at the end of the season, and I think we have accomplished that," Hensler said.
Bauer had two assists in the match. DeAnda and Brendan Rosenburg each contributed an assist also.
Collinsville plays its final regular season match at 6:45 p.m. Thursday at Kahok Stadium against Alton. The booster club will be selling 50/50 tickets during the junior varsity game (kick off at 5 p.m.) and until halftime of the varsity match. The current 50/50 pot is $1,120. The winner does not have to be present to win.