High scoring Belleville West visits Kahok Stadium Friday for Collinsville's homecoming.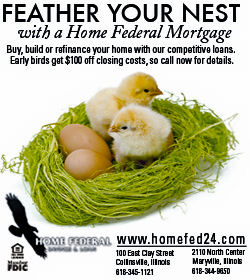 Quarterback Sherond Boyd, a Division I recruit, is the leader of the Maroons (3-3, 2-2 Southwestern Conference). Boyd has rushed for 444 yards and thrown for 847 yards, to go along with nine touchdowns against only one interception.
Collinsville Head Coach John Blaylock said his defense is expecting West's second-leading rusher, Antoine Davis to return against the Kahoks. Davis ripped of 385 yards in the first three games, averaging 7.5 yards per carry, before missing the last three games. Paris Johnson gained 277 yards in Davis' absence.
When Boyd puts the ball in the air, it will most likely go to the TeAntez Anthony, whose 398 yards are second best in the conference. But the passing game, Blaylock said, will not be the initial focus of the Kahok defense.
"The first thing we have to do is stop the run, or you won't see much passing," Blaylock said.
CHS junior quarterback Jordan Reichert is putting up some gaudy stats of his own this season. Reicherts' 478 yards rushing are good for third best in the conference, behind only a pair of East St. Louis running backs.
Senior wingback Jamal Wellmaker's 337 rushing yards are good for 11th best in the league. He averages five yards per carry and had a season high four receptions last week.
The key to Collinsville winning the game will be fewer turnovers, fewer unforced errors, such as penalties, and the ability to sustain drives. The young Kahok team has struggled in all three of those aspects on their way to a 1-5 start (1-3 SWC).
With the Kahoks out of the playoff picture, Blaylock said the team will begin using some underclassmen more frequently. One player that will see increased playing time, and could help the Kahoks sustain longer drives, is receiver Rhett Romanik.
Blaylock said the sophomore has drawn the attention of the coaching staff with his good speed, good hands and willingness to go up and fight for a ball. Blaylock said that, although he is listed at 6 feet and only 142 pounds, Romanik should get bigger because he "works his tail off in the weight room."
"We're expecting really big things from him in the next couple of years," Blaylock said.