Many in the Collinsville area understand the impact Senate Bill 1739, a gaming expansion bill, would have on Fairmount Park if the track were excluded from the bill. As of Wednesday, May 14, many House Executive Committee and downstate legislators understand the issue from Collinsville's perspective.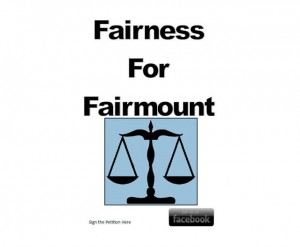 That is when the Collinsville Chamber of Commerce traveled to Springfield and passed out packets of information, which included a petition asking the park to be included in the bill, a history of Fairmount Park and an economic impact report. The petition included 1,800 signatures, Executive Director of the Chamber of Commerce, Wendi Valenti, said.
Fairmoumt Park is in danger of being excluded from the gaming expansion bill thanks to an amendment introduced by Rep. Bob Rita D-Blue Island, located in Cook County. In the amendment is a call for horse racing tracks in Cook County to receive 600 gaming positions and those outside Cook County to receive 450, except Fairmount Park, which would not receive any.
The Collinsville horse racing park is excluded due to "concerns about the impact that would have on the Casino Queen in nearby East St. Louis."
Rita has been attributed as saying the Casino Queen provides 40 percent of East St. Louis' general fund budget.
The Metro Independent has not been able to independently verify that number because East St. Louis has not filed any recent financial reports with the Illinois Comptroller's Office. In 2009, East St. Louis reported an overall revenue of $19,916,713, of which $9,615,537, or 48.2 percent, came from the Casino Queen.
The revenue brought to East St. Louis from the Casino Queen has dropped in the years since 2009, though. In 2013, it generated $7,918,236 in tax revenue for East St. Louis on total revenue of $124,576,272.
The original bill, which passed the Senate but was never called for a vote, included Fairmount Park, but any revenue generated by the gaming machines would be split between Collinsville, East St. Louis and Alton.
East St. Louis and Alton would each receive 45 percent of the revenue, while the remaining 10 percent would go to Collinsville.
City Manager Scott Williams said when he contacted Senator Bill Haine, D-Alton, when he learned about SB1739, and that Fairmount Park might be excluded.
"Bill was very supportive of Collinsville and Fairmount," Williams said. "He told me he would not vote for a bill that did not include Fairmount Park."
However, Williams said Haine told him that he supported the revenue sharing plan. Williams said he reminded Haine that the city of Collinsville and its taxpayers are the ones providing the services, such as the police department, fire department, street maintenance and so on, to Fairmount Park.
"The tax generated at Fairmount Park are supposed to help offset those costs," Williams said. "If 90 percent of that revenue isn't going to Collinsville, I didn't think that was fair."
Williams said he also spoke with Rep. Dwight Kay, R-Glen Carbon, and said Kay told him he was not supporting any bill without Fairmount Park or the revenue sharing plan.
Kay will host a town hall meeting Saturday, May 17, from 8-9 a.m. at Fairmount Park. The gaming bill and issues concerning Fairmount Park will be discussed.
Valenti said on May 9, Rep. Jay Hoffman, D-Swansea, introduced an amendment that would put Fairmount Park back in the bill. Collinsville would still, however, receive only 10 percent of the revenue from the slot machines.
"It is currently in the rule committee. We're anticipating when that amendment gets through the rules committee that it will go to the executive committee of the house," Valenti said. "There may be additional amendments that will be introduced, but no other amendments have been introduced yet."
To help create awareness for the bill and Fairmount Park's role, a Facebook page called Fairness for Fairmount was created. The Southwestern Illinois Council of Mayors also sent a letter of support to lawmakers asking for Fairmount Park to be put back in the bill.