The Collinsville High School volleyball team went 2-0 this week, but it is what they did before their season started that earned them Metro Independent Athlete of the Week honors.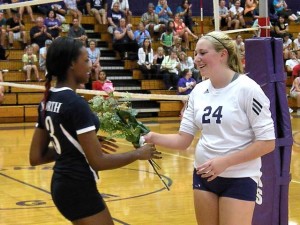 The team began their season Tuesday in Fletcher Gym. Before the match, the Kahok volleyball team gave each McCluer North player a flower as a show of support for the team from the Ferguson-Florissant school district whose school and practices were derailed for two weeks by the violent protests in Ferguson.
McCluer North's Kayleigh Menke said she and her teammates appreciated the roses and the sentiment.
"It meant a lot," Menke said. "It was nice to be recognized"
McCluer North is located just a few miles from Ferguson, Mo. Head Coach Nathan Kern said the team, with school closed and no access to the gym as a result of the often violent protests in Ferguson, had to scramble for practice space.
The team initially found a sand volleyball court at a local park, before getting a day at St. Louis Christian College, Kern said.
On the court of play, the Kahoks overcame two slow starts to sweep McCluer North on Tuesday and Centralia Thursday. Collinsville beat the McCluer North Starts 28-26, 25-20 and the Centralia Orphan Annies 25-23, 25-11.
Junior Ellie McCarthy lead the Kahoks with 18 kills and 14 service points. Sophomore Gabby Hancher was second on the team with 13 kills. Junior Gabby Morgan's 11 service points were good for second best on the team. Morgan and senior Sydney Butterfield topped the team with four blocks each.
see related: Kahok volleyball team shows support for McCluer North players, wins match