Please submit obituary information by using our form or contacting Roger Starkey at rogerstarkey@metroindependent.com or 618-365-6329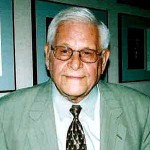 February 6, 1922 - September 6, 2014
U.S. Veteran
Burial Date September 12, 2014
Visitation will be held Thursday, September 11, 2014 from 4:00 until 8:00 p. m. at S. S. Peter & Paul Catholic Church in Collinsville and from 9:30 until 10:30 a. m. Friday, September 12, 2014
Obituaries » Louis (Lou) S. Jackstadt
Louis S. "Lou" Jackstadt, age 92, of Collinsville, IL, passed away September 6, 2014 at Liberty Village in Maryville, IL.  He was born February 6, 1922 in Collinsville, IL to the late Michael and Agnes (nee Ziebert) Jackstadt.  Besides his parents he is preceded in death by his wife, Neva M. (nee Gerstenecker) Jackstadt and one brother, Daniel Jackstadt.
Lou graduated from CTHS and was class president at the age of 16, in June 1938.  In 1941 he entered the U.S. Coast Guard and served in the South Pacific during World War II.  He attended St. Louis University in 1946, where he played varsity football and received his degree in 1949.  He married Neva on August 19, 1948.  In April 1949 he was elected to the School Board and served until he was elected mayor in 1951, the youngest in Collinsville history, at the age of 29.
He worked as a sales representative for many years.  Lou was appointed sewer project coordinator from 1972 to 1979, when he became city clerk.  At the age of 84, he retired from this position after working in Collinsville City government for more than 50 years.  He also served on the Board of Fire & Police Commissioners, along with leading various city projects.
He received a key to the City in 2006, only the fourth such key ever presented.  He was an avid Cardinal fan and was alive for every Cardinal World Series Championships.  He played on many softball teams over the years, until age 68, including one team with all his sons and several grandsons.
Mr. Jackstadt was a lifelong member of S. S. Peter & Paul Catholic Church in Collinsville and a charter member of Collinsville V.F.W. Post #5691.
He is survived by six sons, Paul (Jane) Jackstadt of Granite City, IL, Stephen (Dianne) Jackstadt of Collinsville, IL, Tom (Renee) Jackstadt of Collinsville, IL,  Eric Jackstadt of Collinsville, IL, Robert (Kathi) Jackstadt of Glen Carbon, IL and Michael Jackstadt of Collinsville, IL and two daughters, Christine Jackstadt-Norton and Ann Jackstadt-VanDyke, both of Collinsville, IL.  Also surviving are 18 grandchildren and 12 great grandchildren.
Memorials are requested to Collinsville Historical Museum or Anderson Hospital Auxiliary.
Visitation will be held Thursday, September 11, 2014 from 4:00 until 8:00 p. m. at S. S. Peter & Paul Catholic Church in Collinsville and from
9:30 until 10:30 a. m. Friday, September 12, 2014
Funeral Mass will begin at 10:30 a. m. Friday, September 12, 2014 with Father John Beveridge and Father George Radosevich co-celebrating.  Burial will be in S. S. Peter & Paul Catholic Cemetery, Collinsville, IL