Anyone with an old microwave, flat-screen television, computer, or even a motorcycle, can safely dispose of unwanted items at Collinsville's electronics and appliance recycling drop off.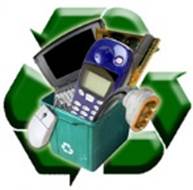 The event will be held in the parking lot at 227 W. Main St. in Collinsville the second Friday of each month in 2015 (except January). Wissehr Recycling (www.WissehrRecycling.com, WissehrRecycling@gmail.com, 618-792-4876) will run the event from 12-6 p.m. beginning February 13, 2015. Proceeds benefit Miner's Theatre.
Only flat screen television and computer monitors will be accepted. Paper, glass, plastic, cardboard and tires will not be accepted.
Examples of acceptable recyclables are:
Vehicles
Motorcycles
Bicycles
Scooters
Go Carts
ATVs
Kids Motorized Toys
Machinery
Large and Small
Residential/Industrial
Lawn Equipment
Mowers – Riders/Pushers
Trimmers/Shredders
Blowers/Tillers
BBQ Grills
Patio Furniture
Swing Sets
Shovels, Rakes, etc.
Power Tools
Office Equipment
File Cabinets/Office Chairs
Metal desks/Shelves
Paper Shredders
Metal Furnishings
Wall Dividers
Postage Meters
Appliances
Air Conditioners
Furnaces
Water Heaters
Refrigerators/Freezers
Stoves/Stove Tops/Toaster Ovens
Built-in Ovens
Microwaves
Blenders/Mixers
Dishwashers
Washers/Dryers
Crock Pots
Pots & Pans
Kitchen Utensils
Vacuums
Lamps/Ceiling Fans
Hair Dryers/Curling Irons
Rotary Phones
Cordless Phones
Electronics
Computers Towers/Laptops/Tablets
Monitors *Only flat screen monitors
Cell Phones
TV's * Only flat screens
Nintendos/ Gaming Systems
Satellite or Stereo Receivers
Satellite Dishes
VCR/DVD Players
Stereo Equipment
Printers/Copy Machines
Cameras/Video Recorders
Mainframes/Networking
Batteries
Car/Marine/Motor
Battery Backup
Computer
NiCad
Lithium
NI-Mh
Cordless Tool Batteries
AA, AAA, C, D
Hearing Aids
Rechargeable