Submitted content
The national small business movement Independent We Stand recently announced the quarterfinalists for the 2014 Independent We Stand Independent Small Business of the Year Award.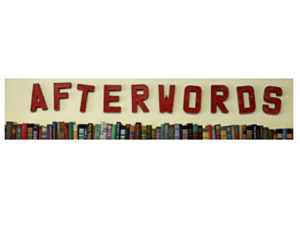 Afterwords Books, of Edwardsville, was named one of the quarterfinalists.Located at 232 S. Buchanan St., Afterwords Books is a five-year-old family owned and operated bookstore.
The store offers both new and used books, a trade for credit program, free children's story times, book clubs for all ages, a monthly documentary club, educational toys and unique gifts crafted from local artisans, all in what owner LuAnne Locke called a relaxing, inviting environment with impeccable customer service.
Afterwords Books is proud to be part of the circle of local merchants that support the shop local movement by practicing what they preach; offering unique goods and services while giving back to the community through big and small gestures, and choosing to shop and dine with the independent businesses in their own backyard, Locke said.
Bill Brunelle, founder of Independent We Stand, said, "this year's quarterfinalists are a great representation of independent businesses across the country, and this award is our way of recognizing these businesses for their outstanding efforts within the communities they serve."
Voting is now underway at www.IndieBizAward.com through Dec. 14. Voters may visit the website to cast one vote each day.
The Indie winner will receive prizes with a combined value of more than $10,000, including:
$5,000 grand prize
$1,000 STIHL equipment certificate. STIHL products are sold exclusively through local dealers, and support more than 8,000 STIHL dealers in communities nationwide.
"Small Business Web Starter Package" from independent web design firm Launch Interactive that includes custom website layout design and programming with a location page with Google map integration and web traffic reporting
Three day/two night stay at an independent resort hotel in Virginia Beach, Va., that includes a tour of the STIHL Inc. headquarters and dinner with the Independent We Stand team
Plaque to display at winner's business
Public relations and social media recognition
More than 12,000 votes were made for 300 nominees during the nominations phase. The quarterfinalists in alphabetical order are:
A. Dodson's, a retail gift shop in Suffolk, Norfolk and Virginia Beach, Va.
Afterwords Books, a bookstore in Edwardsville, Ill.
Artsy Fartsy Art Gallery, an art gallery in Carson City, Nev.
BSR Used Books, a used book store in Granite City, Ill.
Califon Book Shop, a bookstore in Califon, N.J.
Copperhead Lodge, a mountain cabin resort and lodge in Blairsville, Ga.
Cornells True Value Hardware, a hardware store in Eastchester, N.Y.
Cynwyd Station Cafe and Tea Room, a green community center and Victorian ice cream parlor in Bala Cynwyd, Pa.
D'Arcy's, a bistro and pub in Denver, Colo.
For The People, a designer household goods retailer in Phoenix, Ariz.
Grolier Poetry Book Shop, a poetry book shop in Cambridge, Mass.
Illustrated Beauty, a hair and beauty salon in Somerville, N.J.
Jan's Paperbacks, a bookstore in Aloha, Ore.
Lead In The Window, a stained glass art studio in Las Vegas, Nev.
Life's Memories & More, a scrapbook store in Palmer, Mass.
Matt's Building Materials, a lumberyard and hardware store in Pharr, Texas
Mike's Community Cup, a coffee shop in SeaTac, Wash.
Monkitree, a fine art and craft gallery in Gardiner, Maine
Mower Man Lawn Service, a landscaping business in Lakeside, Calif.
Prairie View Farm Market, a garden center and farm market in Hampshire, Ill.
Superior Outdoor Power, a hardware and outdoor equipment dealer in Superior, Neb.
The Cross Eyed Owl, gift shop in Valatie, N.Y.
The Ginger Armadillo, a food truck from Austin, Texas
Vickery Hardware, a Do It Best hardware store in Smyrna, Ga.
Wagoner Power Equipment, a hardware and outdoor power equipment dealer in Englewood, Ohio
The winner of the Indie will be announced Dec. 17.
For more information on Afterwords Books, visit: www.afterwordsusedbooks.com.
For more information on the "Indie" or to vote, visit www.IndieBizAward.com.
About Independent We Stand
Independent We Stand is a movement of independent business owners across the country to inform their communities about the importance of "Buying Local" and how these efforts bolster their local economy, a spokesperson said. The movement supports all local and national causes committed to boosting local economic development projects. The Independent We Stand movement is sponsored in part by STIHL Inc., Chrysler Group and Devoe Paint. www.IndependentWeStand.org.
Submitted content