Citing a need to focus on his business, John Blaylock resigned Monday as the head football coach at Collinsville High School.
"I need to put my time where it needs to be," Blaylock said.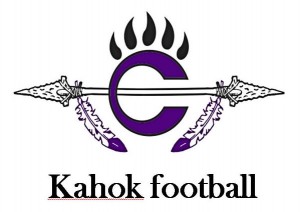 Blaylock, the owner of a mechanical contracting business, replaced Mike Liljegren as head coach in 2012 and went 2-16 over two seasons. The Kahoks were decimated by injuries in 2014 and limped to the finish line with an inexperienced group.
"Eight of the nine games we were walking in with one arm tied behind our back due to injury," Blaylock said after the final game. "These guys committed themselves to getting better every week and I think it's going to pay big dividends. But, it was certainly a big sacrifice to make this year in order to get those dividends"
After embarking on a rebuilding program, Blaylock said he was disappointed that he would not be able to see the anticipated results in the next two years. In the last 20 year, CHS football has had two winning seasons and one .500 season. The Kahoks have won fewer than three games 11 times in those 20 seasons.
The last Collinsville head football coach to leave the program with a winning record was Vergil Fletcher, who went 99-66 over 20 years. Fletcher's last season was 1965, when his team finished 1-7.
Blaylock spent 17 years as a Collinsville High School coach, the last two as the head coach, and 27 years overall. He is leaving behind what he called "a great group of guys." Among the returning players, Blaylock highlighted two that he thinks have a bright future.
"Trevore Sanders is going to be special, he would special be no matter what uniform he put on," Blaylock said. "Jordan Reichert could be a starting quarterback on any Southwestern Conference team."
Blaylock, who Athletic Director Darin Lee called a "true, blue Kahok," told his players about his decision at a special meeting Monday.
"There were a lot of tears," Blaylock said.
By resigning before the state championships this weekend, Blaylock hopes Collinsville will have more options for a quality replacement. If he had waited longer to see if he could continue with his business and devote the time necessary to be head coach, Blaylock feared the good head coaching candidates would have been picked over.
The ideal replacement, Blaylock said, is someone who has successfully turned around at least one program previously. Coaching for a team that is a perennial winner is a different experience.
"It's like being born on third base and thinking you hit a triple," Blaylock said.
Lee said the search for Collinsville's 18th head football coach will include candidates both inside and outside of the Collinsville Unit 10 School District.
"We would like for the head coach to be a teacher in the district, if possible," Lee said.
The two most recent head coaching hires by Lee were Colin Moore for boys golf and Dan Toberman for softball. Both are teachers in the district.