The Turning Pointe Academy of Dance will bring the Christmas classic ballet, the Nutcracker, back to the Wildey Theatre this December.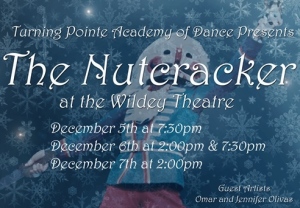 The family classic, first performed in St. Petersburg, Russia on Dec. 18, 1892, is the story of a Christmastime dream world with a nutcracker come to life. The ballet features the music of famed Russian composer Peter Tchaikovsky.
Toy soldiers battle an army of mice and the main character travels through falling snow and dancing snowflakes, before she visits the Land of Sweets. She meets the Sugar Plum Fairy and witnesses a celebration, complete with waltzing flowers and global dancers.
This is Turning Pointe's second performance of Tchaikovsky's classical ballet, The Nutcracker, at the Wildey Theater. The performances, which feature professional and local dancers of all ages, were sold out last year.
The 2014 shows will be Dec. 5, 6 and 7. The Friday Dec. 5 show is at 7:30 p.m. The Saturday performances are at 2 and 7:30 p.m. Sunday's performances is at 2 p.m. Tickets can be purchased at the Wildey box office or at www.wildeytheatre.com.