A 28-year-old Glen Carbon man faces a felony arson charge following a fire Saturday.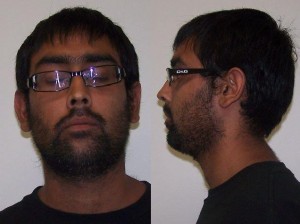 Glen Carbon Police received a call at 5:39 a.m. Saturday that the Old Towne Tavern, at 155 S. Main St, was on fire, Police Chief Todd Link said in a statement. Officers arrived on the scene minutes later to find two exterior wreaths, attached to the building, on fire.
After putting out the fire, the officers spoke to a witness who gave a detailed description of a man he said he saw walking away from the fire. Deveshkumar H. Patel, who lives on the same block as the Old Towne Tavern, was located by two other officers immediately, Link said.
The officers developed other evidence and took Patel into custody. He was charged Monday with arson, a Class 2 felony, and is currently being held in the Madison County Jail. Bond was set at $75,000.