The Collinsville boys soccer team will be looking for a much better result Wednesday when it hosts Triad at Kahok Stadium.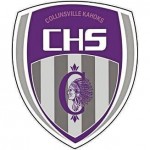 The Kahoks suffered their fifth consecutive defeat Tuesday on the road at St. John Vianney High School, Missouri's fifth-ranked large school. Vianney (12-4-1) scored a late first-half goal, which accounted for the only goal of the half.
The Griffins extended their lead to 2-0 over Collinsville (6-9-1) five minutes into the second half. Wth the Kahoks playing their fifth of seven games in seven days, Head Coach Myles Hensler employed substitutes for much of the second half. Vianney added two more second half goals to make the final 4-0.
Kick off against Triad is scheduled for 5 p.m. at Kahok Stadium.