Collinsville travels to O'Fallon Friday looking for its second win of the season.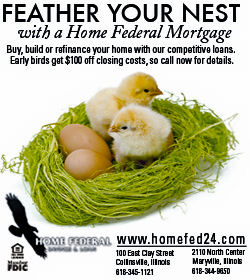 O'Fallon (2-3, 1-2 Southwestern Conference) is coming off consecutive losses to East St. Louis and Belleville West by a total score of 124-41.  The Panthers are hoping to junior running back Kentrail Moran will return this week after missing the game last week.
A four star recruit drawing interest from Alabama, Florida, Tennessee, Wisconsin and Illinois, among others, Moran has missed two games this year. He ran for 100 yards in the Panthers' opener against Cahokia, but managed only 77 yards in the other two games he played.
Throwing the ball for O'Fallon will be junior Camden Bauer, who has also been banged up. Although Bauer has completed only 18 passes this year, including four touchdowns and five interceptions, Collinsville Head Coach John Blaylock said Bauer is dangerous when healthy and will be a focus of the Kahok defense.
The Kahoks (1-4, 1-2 SWC) plan to put a significant amount of pressure on Bauer.
"The trick is going to be stopping the tailback and putting heat on the quarterback at the same time," Blaylock said.
The Kahok offense will look to bounce back from getting shutout last week by Edwardsville. Collinsville averaged just over nine points per game over the first three games, before dropping 28 on Granite City two weeks ago, including 21 in a spirited second-half comeback to give CHS its only victory of the season.
Quarterback Jordan Reichert is the leader of the Kahoks' offense. The junior leads the team in rushing with 410 yards, on 6.2 yards per carry. Reichert has ran for four touchdowns and thrown for another four. Wingback Jamal Wellmaker is second on the team with 225 yards rushing.
Blaylock said the team will continue its ground based attack, but hopes for increase productivity through the air.
"We need to get up to that 8-10 completion range," Blaylock said. "I'd still like to only be throwing the ball 12-15 times per game."
Kickoff is at 7 p.m. Friday at O'Fallon High School.