Young and inexperienced are not two adjectives a coach likes to use when describing his team that is about to host the state's fourth ranked football team in Class 8A, but at least John Blaylock's Kahoks are hungry.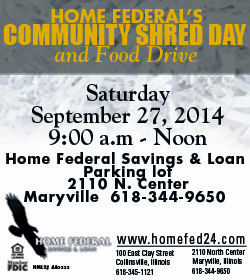 Collinsville's youthful squad – fresh off a 20-point comeback victory against Granite City – will lineup against a senior laden Edwardsville Tiger team that boasts 11 starting seniors on the offensive side of the ball alone, more than the Kahoks can muster in total. The 3-1 Tigers visit Kahok Stadium riding a three-game winning streak against Collinsville.
If the Kahoks can contain Tiger quarterback Dan Marinko, something no one has done this season, they could shock the state with an upset. Marinko enters the game with 743 yards passing to go along with 11 touchdowns and three interceptions. The senior has completed 65 percent of his passes and tacked on six rushing touchdowns. He leads Edwardsville with 112 rushing yards.
Marinko tossed seven touchdowns against East St. Louis two weeks ago in a 57-32 route at east side. He followed that performance with 172 yards passing and one touchdown, to go along with three rushing touchdowns and 74 yards on the ground in a 35-7 pasting of Alton last week.
Fontez Davis is the Tigers leading receiver, with 18 catches for 359 yards and four touchdowns. Although no other receiver has double-digit catches, Blaylock said they can all do damage with their speed and an ability to run crisp routes.
Blaylock said the secret to stopping the potent Tiger attack is uncomplicated, but not easy.
"The best way to handle that offense is to keep them off the field," Blaylock said.
Unfortunately for Edwardsville opponents, the offense isn't their only problem.
"They are putting a pretty incredible defense out there," Blaylock said.
The Tiger defense has recorded eight interceptions and two fumble recoveries in four games. They surrender an average of 17 points per game, but that figure is skewed by contests against two of the best teams in the state. Edwardsville allowed 29 in an overtime loss (on a fake extra point) to Loyola – the top ranked 8A team entering the season – and 32 points to East St. Louis, currently ranked seventh in 6A despite a 1-3 record. The Tigers other two opponents combined to score 7 points.
It will take a Herculean effort for Collinsville to defeat Edwardsville Friday. Blaylock stopped short of saying his team needed to play a perfect game, but acknowledged they would need a special effort.
"We have to play pretty much a mistake free game," Blaylock said.
The keys to a Kahok victory are to eliminate turnovers, have good special teams play and have long, sustained offensive drives that finish with scores, Blaylock said. Defensively, Collinsville has to force turnovers and avoid big offensive plays.
"We need to tackle them where they catch it and make them have 12-15 play drives," Blaylock said.
Kickoff is set for 7 p.m. Friday at Kahok Stadium.