The Collinsville Kahoks lost five starters to injury during last weekend's game against Triad. Two more starters were injured in practice this week, with one likely to miss the Friday night contest at home against Belleville East.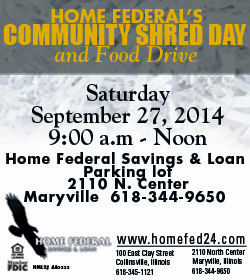 The Kahoks' (0-2) offensive line took the biggest hit, where three reserves will get the starting nod against the Lancers (1-1). Sophomores Alex Link and Kody Toothman will man two of the three positions left open by injury, with one starting spot to be determined. Starting fullback and team captain Jordan Miller was lost for the season on the first series of the Triad game.
Collinsville's depth will be tested by the plague of injuries, Head Coach John Blaylock said.
"You don't lose three of your starting offensive linemen in a week and things are OK. It just doesn't work that way," Blaylock said.
Three reserve lineman and a new fullback will force the Kahoks to adjust their offensive game plan, Blaylock said.
"We're going to look quite a bit different this week," Blaylock said. "We're going to go deeper into the playbook to see which plays we can execute well."
The Lancers visit Kahok Stadium after going 1-1 against the public schools in Normal, Ill.  East used three interceptions to defeat Normal Community High School 28-21 in week one, before bowing to Normal West 27-23 last week, the Bloomington Pantagraph reports.
Belleville East has a different look this year, Blaylock said.
"They are not the ground and pound team we are accustomed to seeing," Blaylock said.
Quarterback Drew Millas is the centerpiece of the Lancers 2014 offense. He was 16 of 27 for 217 yards and three touchdowns against NCHS, the Pantagraph reports. Millas accounted for all three touchdowns against Normal West, throwing for two and running for another.
Running back DeMarius Ward ran for 96 yards in the season opening victory and will do the yeoman's work on the ground for the Lancers.
The Kahoks will hope to have another close fourth quarter game, with a better result than the first two weeks.
Kickoff is at 7 p.m. Friday at Kahok Stadium.