The man who helped coin the phrase, "high school of champions," has left Collinsville High School to become the principal of a high school in Rockton, Ill.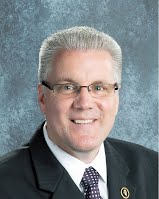 During the eight years Eric Flohr was the principal at Collinsville High School, he was named the Illinois High School Principal of the year (2008) by the National Association of Secondary School Principals and was honored as a Peabody Energy Leader in Education (2013-2014).
When Flohr arrived from Dwight Township High School in 2006, he directed his boundless enthusiasm and energy to improving a high school that had, he said, lost its swagger. In his first year, he personally visited each of the nearly 500 incoming freshman to ensure they received a success packet and an official freshman class shirt before the first day of school, CHS Assistant Principal Brad Hyre said when he nominated Flohr for the leader in education award.
The effort led to a "Freshman Focus" program that helps incoming freshman with the transition from middle school to high school. He also helped implement school-wide reading and mathematics programs as well as develop a summer academic enrichment program. One measure of the effectiveness of the programs may be found in the success of the math and science teams that consistently qualify for state competitions.
Although he is an avid sports fan, Flohr took the most pride, and helped craft the name "high school of champions" to honor and promote academic excellence. The name gave the students and teachers pride, Flohr said.
"We have had so many championship moments; in fine arts, academics, sports…," Flohr said. "What was quirky at first became a mantra that breathed life into us."
Flohr also helped arrange the school's first ceremony to honor students who received an academic scholarship from the school they will attend. Hundreds of parents, friends and college representatives helped honor 67 seniors this spring as they signed a certificate that recognized them as academic champions.
Collinsville Unit 10 Superintendent Bob Green said the enthusiasm Flohr brought to the high school and the students will be missed, as will his dedication to the students.
"He is really student focused," Green said. "He is probably as good as anyone I've worked with in that regard."
The opportunity to be the principal at Hononegah Community High School, known for its academic excellence and consistently ranked as one of the top high schools in the state, was too good to pass up, Flohr said.
"I like a challenge, hopefully I'll be successful," Flohr said.
Leaving Collinsville was not easy for Flohr.
"The hardest thing about moving is that you care so much," Flohr said. "So much of my life was there, for eight years. It changes you."
Flohr changed Collinsville High School, Green said.
"He did a lot of positive things for CHS while he was here, and that's what it's all about," Green said. "He left the high school in better shape than he found it."
Flohr's replacement has not yet been named.