The dog days of summer have come early to the Metro East this year, and they brought some Hollywood stars with them.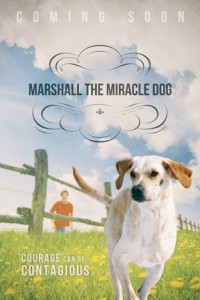 A movie based on the children's book "Marshall: The Miracle Dog" has been filming in various locations around Edwardsville and Troy for most of the month of June. The original plan called for filming in Collinsville also, but it now appears the city will not be included.
Marshall's story started in Missouri, where he was discovered as one of more than 60 dogs living on an abandoned property. The Humane Society of Missouri stepped in and rescued the pack.
Marshall needed surgery for a broken front leg and a wound on his face. He died during the operation, but doctors were able to resuscitate him. After bringing him back to life, doctors had to amputate his front, left leg.
Eventually, Cyndi Willenbrock, of St. Louis, adopted Marshall and wrote the children's book based on his story. Willenbrock has since started the Marshall Movement, to with anti-bullying and anti-animal cruelty messages.
Director Jay Kanzler said Marshall made an amazing comeback after his ordeal.
"He has come back and started doing pretty miraculous things in the way that he helps kids and teaches others about bullying," Kanzler said. "The idea then occurred to Cyndi that we should turn [the book] into a movie."
Lauren Holly, of "NCIS," "Dumb and Dumber" and "Any Given Sunday," as well as short-time wife of Jim Carrey, stars with Shannon Elizabeth, from "American Pie" and "That '70s Show."
Elizabeth, who founded Animal Avengers, a non-profit animal rescue organization, will  play the part of Cyndi.
Mathew Settle, of "Gossip Girl" and "Band of Brothers" fame, plays Doc Henry. St. Louis native Bill Chott, who has been a part of "Saturday Night Live", will also appear in the film.
So far, scenes for the movie have been shot in downtown Edwardsville, Leclaire Baseball Field in Edwardsville and Troy.
According to Kanzler, 95 percent of the movie is being shot in the Metro East, with one scene so far being shot in Missouri.
"We needed a pet store larger than what we could find in the area," Kanzler said.
The Metro East has great locations to film in, Kanzler said, and everyone in the area has been supportive.
"This Leclaire field is fantastic. You couldn't get a more picturesque park," Kanzler said. "The neighborhoods, they're just great. The police, the community, the parks, the mayors, everyone's made us feel just great and at home. I'd come back here in a second to do the sequel."
Kanzler also said it helps that Illinois has tax credits and is more film friendly than Missouri.
While there are a some big names involved with the film, it will feature many local extras and actors.
"I'd say half the boys that were out there on the field today were from the Edwardsville little league system," Kanzler said.