By Kurt Prenzler, Madison County Treasurer
Once upon a time there were honest – even heroic – governors in Illinois. Edward Coles was that kind of leader.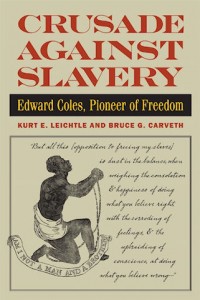 As an avid reader, I enjoy delving into history. As Madison County's treasurer, I especially enjoy learning about the history of this county. Recently I read the biography of Edward Coles, the state's second governor (1822-1826), by Kurt Leichtle and Bruce Carveth.
"Crusade Against Slavery, Edward Coles, Pioneer of Freedom," (Southern Illinois University Press, 2011), is a story about a man who lived in Edwardsville and was a leader in the anti-slavery movement. Coles freed his own slaves and worked to keep Illinois as free soil.
Coles was born in 1786 into a wealthy Virginia family whose plantation was not far the Jefferson's and Madison's. At that time, the tax rolls showed that Coles' father owned 71 slaves.
Typical of his generation, Coles was homeschooled. As he got older, his education was supplemented by tutors, who would also teach neighbor children. At age 20, he began to study at the College of William and Mary, where he came under the influence of the Rev. James Madison. The first Episcopal Bishop of the Diocese of Virginia and President of the College, Madison considered slavery morally indefensible. Coles determined to free any slaves he might inherit, but kept his views from his family.
When Coles' father died in 1808, he inherited 12 slaves and a 782-acre plantation. Because of inherited debt and other issues, he did not free his slaves at that time.
Coles was a first cousin to Dolley Madison, the wife of President James Madison. Coles served as Madison's personal secretary from 1810 to 1815. Madison County was named for James Madison.
In 1817, Coles sold his plantation, which allowed him to set out for Illinois with his slaves. On a raft in the Ohio River, Coles freed his slaves. This event is the subject of a mural on the first floor (south hall) of the Illinois State Capitol.
President James Monroe appointed Coles as the Register of Lands in Edwardsville, where his job was to administer the orderly sale of federal land. He worked closely with Benjamin Stephenson, who was treasurer for land sales and, therefore responsible for collecting payments and sending the money to Washington. Stephenson, staunchly pro-slavery, owned 35 slaves.
In contrast, Coles provided for his freed slaves by giving each head of household a 160-acre farm in Pin Oak Township, which is east of Edwardsville. Coles continued to help his former slaves get established in farming.
As Register of Lands, Coles gained a reputation for honesty and was elected governor in 1822. At that time, most of the residents of Illinois had immigrated from slave states. Pro-slavery forces put a referendum on the ballot to call for a constitutional convention for the purpose of making Illinois a slave state.
Coles donated his entire $4,000 salary and led a coalition of Baptists, Methodists, and Presbyterians to defeat the referendum. From that point on, immigration into Illinois came from northern states and Illinois' status as a free state was no longer in danger.
While governor, Coles was sued in Madison County for $20,000 for not posting bonds required to insure that his 20 freed slaves would not end up on welfare.  Coles lost his case before a pro-slavery judge, but the decision was later reversed by the Illinois Supreme Court.
Coles later moved to Philadelphia, where he married, raised three children and lived the rest of his life.
This book recognizes a man who did great things in Madison County and I highly recommend it.