Despite playing without a pair of senior starters, Southern Illinois University Edwardsville women's soccer made it a perfect weekend thanks to a 1-0 win at Austin Peay in Ohio Valley Conference play.
SIUE improved to 9-3-3 overall and 3-2-1 in OVC play. The nine wins are the most for an SIUE team since reclassifying to NCAA Division I. It is the most wins for the program since winning 13 in 2007, the Cougars' final season at the Division II level, and the last NCAA tournament appearance for SIUE.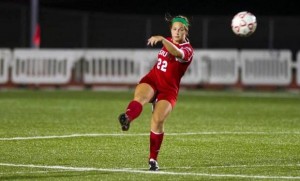 Austin Peay dropped to 9-2-2 overall and 4-1-1 in the OVC.
"I cannot say enough about how our team pulled together," SIUE Head Coach Derek Burton said. "It started in the second half Friday (at Murray State) and carried into today."
The team played Sunday's game without senior forward Sarah Doggendorf, who left Friday' game with a right knee injury, and midfielder Chelsea Smith, who still was affected by a hip injury suffered a week ago.
"Today and this weekend was a huge group effort," Burton continued. "They pulled together, they played together and it paid off. They beat a really good team today."
The lone goal of the day came from freshman Christine Martinez. Senior Kourtney Price hit a long restart from midfield into the 18 yard box. Tory Pitts, playing with her back to the goal, was able to get the ball to Martinez, who finished from six yards away, for the first goal of her career.
Price and Pitts each finished the weekend with a goal and two assists for four points.
The SIUE defense limited the conference's highest scoring offense to just six shots, including only two in the second half. The Lady Govs entered the weekend averaging more than two goals per game and nearly 15 shots per game.
Burton was quick to pass on the credit to his staff.
"What a great job Holly (Cox) and Danielle (Kot) did in organizing our backs," Burton said. "The second half we really dominated and it was because we were organized."
Sophomore goalkeeper Jennifer Pelley made four saves to earn her OVC-leading sixth shutout of the season. It is the 15th blanking of her career, which is fourth most in school history.
The Cougars have a week off before playing host to Jacksonville State October 20, in the final home game of the season. SIUE then finishes the regular season with three straight road games.
"We have the longer week which is nice. It will give us time to recover," Burton said. "The girls are feeling good and happy. The challenge is whether or not we can continue getting better."